Not normally associated with each other, but they nearly had a close encounter tonight.
We'd had two swarm calls today, from about a quarter of a mile apart in North Watford. Doreen checked on one at lunchtime and found a lot of flying bees but no big swarm. We went back tonight suspecting the two calls may actually be the same swarm. Very few bees left at the first site, which was in a tree by the road, so we went on to deal with the larger one first.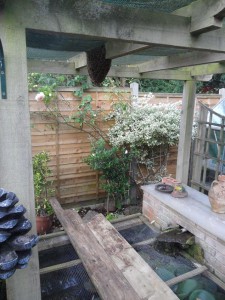 This was in someone's garden, hanging under a wooden pagoda directly over the middle of a small raised pond. The couple kindly provided a couple of stout planks to put across the pond, but that left very limited headroom below the beam from which the bees were hanging. One false move and Doreen could have ended up with the fishes, or alternatively knocked the whole swarm down with her head. However she managed to sweep them gently into a nuc box, we scooped up the few left over and waited a few minutes as they walked into the nuc where they could smell the queen's pheromones. In the end it all went according to plan with a decent sized swarm collected.
With one swarm in the nuc in the boot of the car, we then drove the short distance to the other swarm, where only a few dozen bees remained. Talking to some local residents it became clear that another beekeeper had collected the main swarm, including the queen, at the weekend; what we found now was just a cluster of scout bees that had been left behind. They were quickly gathered into a second nuc and, once home, the handful of queenless bees were introduced to the larger swarm.
The combined colony is being rehomed now to another HBKA member as we just don't have room for any more!