Bank Holiday weekend saw the inaugural Headstone Village Show, incorporating the annual Harrow-in-Leaf (HiL) event. Nascot Wood Bees participated again, competing in around 20 different classes, from honey to poetry, wax candles to photography, cakes to cut comb.
In a series of short posts, we'll look at a few of the classes and what's involved, as they give an idea of not only what's involved in show prep, but also a flavour of just what you can do with honey, wax and other honey products.
So this one is looking at class 172, "DRINK (alcoholic or non alcoholic) incorporating honey, other than mead".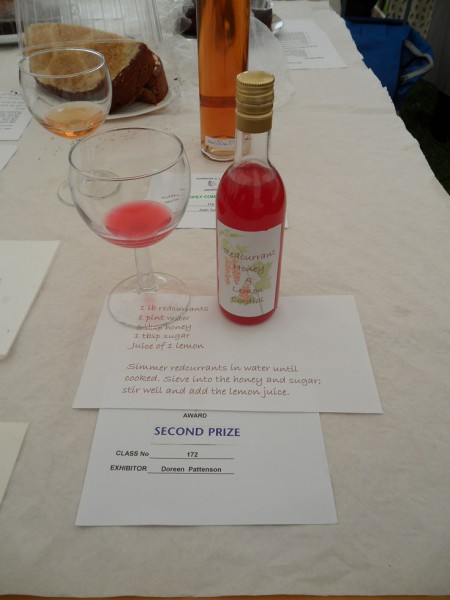 Redcurrant, honey and lemon cordial
When we gave up our allotment a few years ago, we "rescued" a number of currant bushes (red and black) and relocated them to our garden, where they continue to be productive. This year has been reasonable for our redcurrants so we thawed a bag from the freezer and set to to create what would, hopefully, be a refreshing and tasty drink. Very simple to make, with very few ingredients, the "redcurrant, honey and lemon cordial" proved to be just that, and a rather impressive colour too. Bottled in a (sterilised) 25ml wine bottle and with a custom-made label, it looked the part. It seemed to go down well with the judges too, winning 2nd prize in the class. The remainder of the drink was kept in a corked bottle in the fridge, but a few days later "popped" its cork as evidently some fermentation is taking place. There's no preservatives other than natural honey so if making this, we'd suggest drinking it within a week or so and keeping it chilled. We like it diluted about 50:50.
1lb redcurrants
1 pint water
1 tbsp honey
1 tbsp sugar
Juice of 1 lemon
Simmer redcurrants in water until cooked. Sieve into the honey and sugar; stir well and add the lemon juice. Serve chilled and diluted to taste.